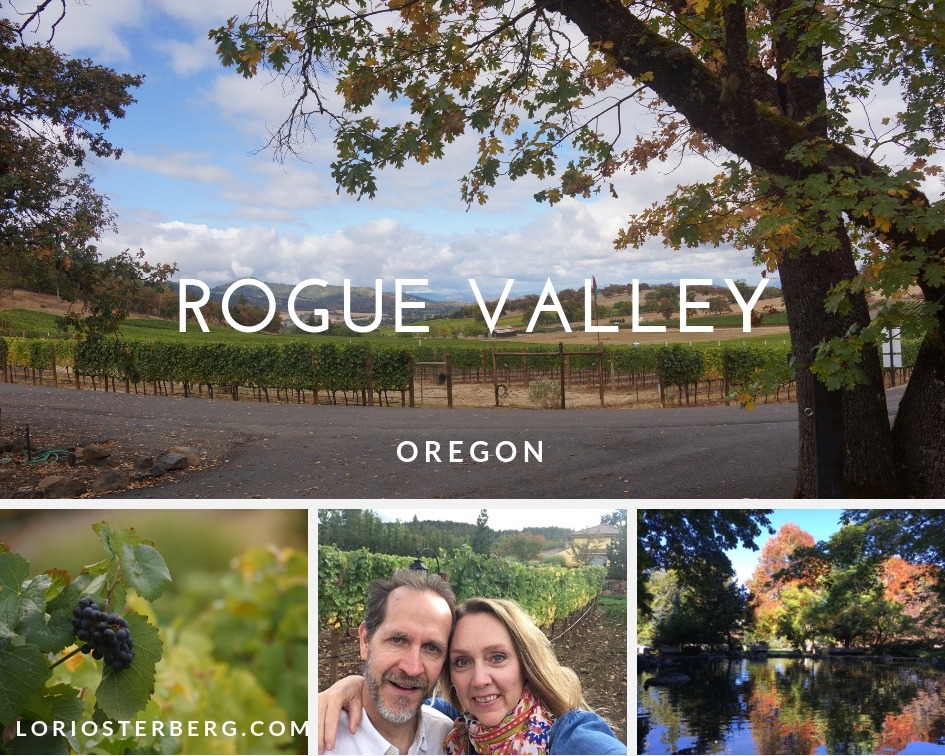 [Part of my Weekend Getaway series.]
A while back, I wrote a post on spending a weekend in Oregon Wine Country. I mentioned we had joined a new program introduced in Oregon in 2018 called WineryHuntOregon, and we were taking full advantage of it.
I've loved every moment of that program. If we have a free weekend, we login to the WineryHuntOregon website to find the latest participant, and off we go to discover someplace new.
Almost all of the wineries are in central Oregon, just a short drive from Portland. They make a great day trip: find a place for lunch, visit the winery, and you're home for dinner.
But in October they ran a month long special in the Rogue Valley, where instead of visiting one per weekend, we could head down there for the weekend and visit all on the list at any time during the month.
The Rogue Valley is in southern Oregon, about a four hour drive from Portland. A little too far for a day trip, we booked a hotel and headed down for the weekend. (Especially with wine involved. 😉 )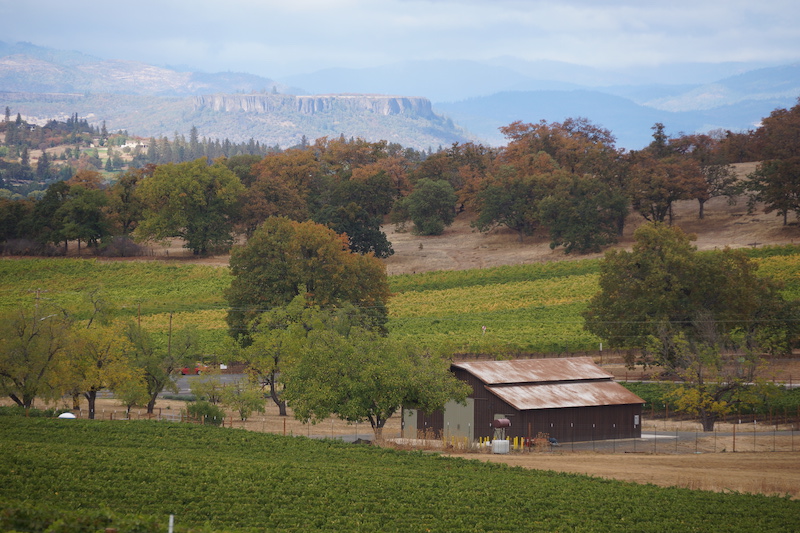 The landscape changes dramatically as you drive down I-5. It's a little sunnier than Portland, a little hotter, and a little less rain. It's known as pear country, and you'll find miles and miles of orchards as you bump along the county roads.
Think laid back. Think country. This isn't Willamette Valley – and it's definitely not Napa or Sonoma. But you will find a slew of wineries that offer incredible wine and even more gorgeous views.
We stayed in the town of Medford which offers lots of choices for accommodations and restaurants.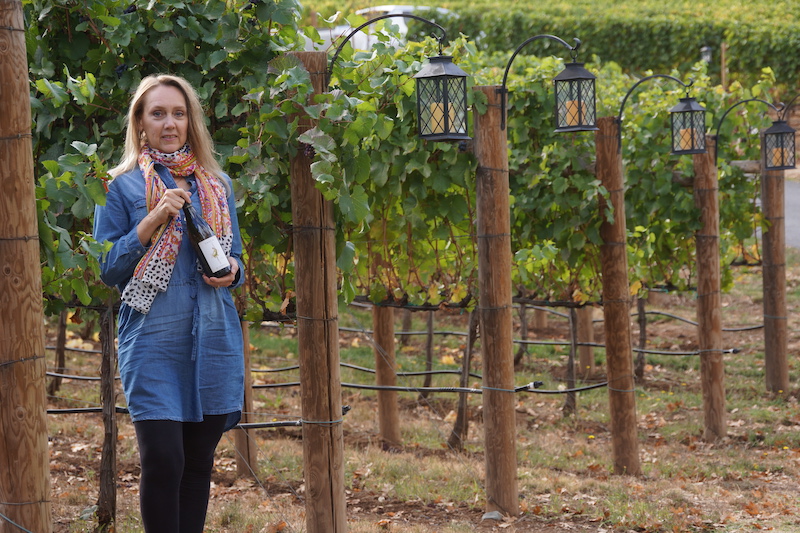 Nearby Ashland is also an excellent choice. Ashland is home to the world renowned Oregon Shakespeare Festival – you can't visit the Rogue Valley without taking in at least one play. Depending on when you're going, book early. Make sure you see one of the plays at the Allen Elizabethan Theatre – this outdoor multi-level stage will delight. If you have the chance, a backstage tour is also engaging.
We also found two great restaurants this time with vegetarian options.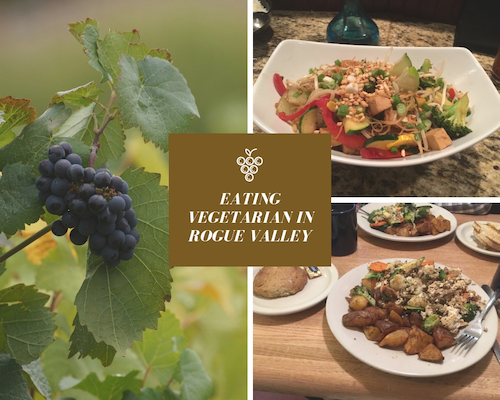 In Ashland, try Greenleaf Restaurant right across the street from the Theater. They have inside and riverside dining options, and offer hearty entrees for breakfast, lunch, and dinner.
As we were making our way through the wineries, we asked for referrals for dinner. At every tasting room, Bambu came up again and again. It's small in size and we had to eat at the bar because we didn't have reservations. But the food was incredible. And while it's not exclusively vegetarian, they had more than enough choices to make this a place we'd go to again the next time we visit.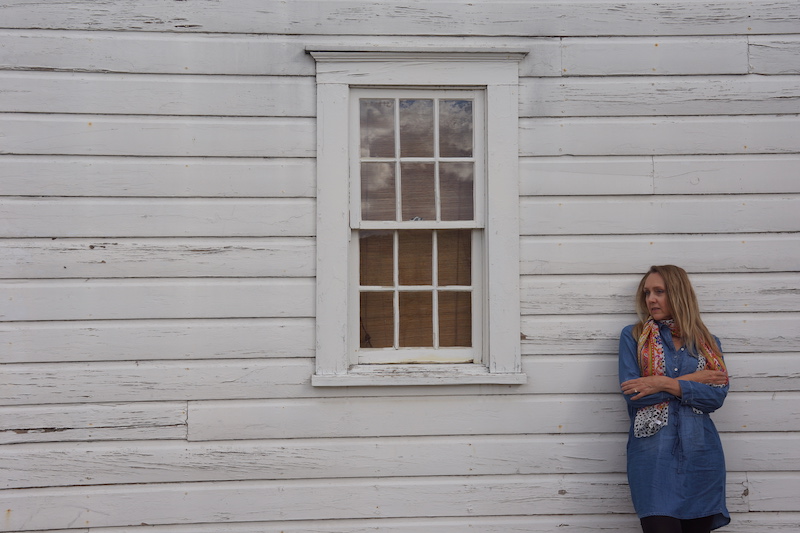 We visited three wineries while we were there – RoxyAnn, Dancin, and Edenvale Winery.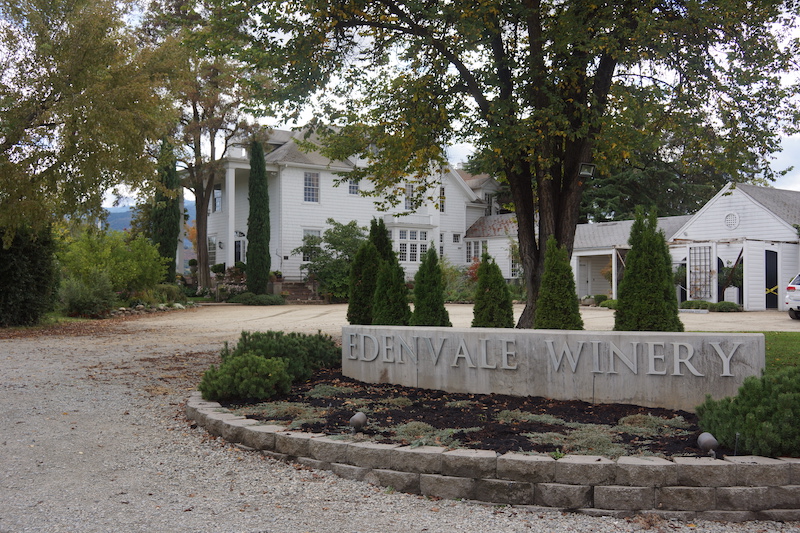 We enjoyed all and brought home several bottles from each. Edenvale had a different philosophy on the wines they sell. Instead of bottling and selling it for you to store, they age it there on site and release the bottles when they're ready to drink. They had a 2007 Tempranillo … yeah. We left happy, and with several bottles in our trunk.
If you're thinking of going, you can't take advantage of the WineryHuntOregon program – memberships sell out quickly. But you can invest in an Oregon Passport. Most wine tastings range from $10 to $30 per winery per person. If you're planning on visiting several wineries, you'll quickly reap the benefits by buying the Passport first. It's valid for two people, includes wine tastings for each, and gives you discounts on purchases.