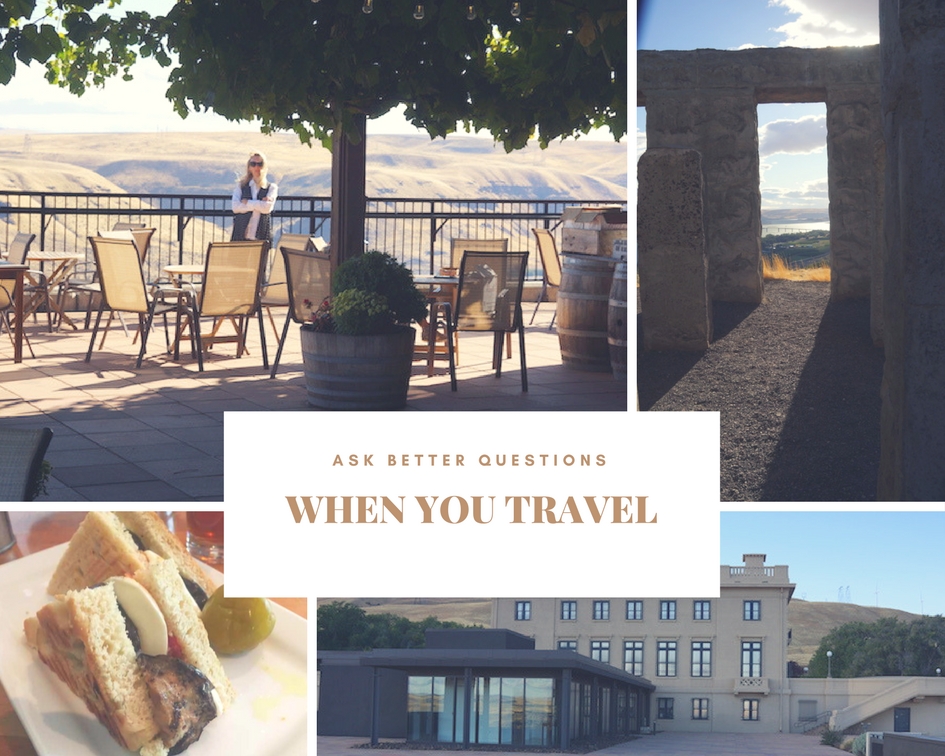 Traveling. In case you haven't noticed, it's my obsession. For me, a perfect day involves packing up a few things and heading out to someplace I've never been before.
Whether it's a day trip, or several weeks in a different country, the thought of experiencing something new leaves me breathless.
Thanks to the Internet, I can type in just about any keyword and have a wealth of knowledge at my fingertips. And I follow many sites that give me everything from professional opinions to write-ups by the locals.
And I take full advantage of all that Google provides. I search all the time.
But I have another method for finding interesting places too.
I ask.
I ask friends and acquaintances. I ask people at the grocery store. I ask the wait staff at a local restaurant. Simple questions, depending on where I am and how much time I have.
What would you recommend I do tomorrow?
What restaurants would you recommend?
What's the most beautiful place around here?
What's the most unusual thing I should see?
Ask.
Then listen. You'll be amazed at what you can find.
Asking for travel advice makes people stretch to give you new ideas. And they never disappoint.
I walk on a regular basis with several people from the community. And a couple of months ago, one of the men suggested a perfect day trip for when it's raining in Portland. "Head east to the other side of the Gorge. You'll find the Maryhill region, perfect for a day trip."
So off we went to take in the sites.
Because we're vegetarian, I do my research ahead of time. I pull up restaurants that provide good veggie options. And in the nearby town of Goldendale, I found a promising result.
Find restaurants others recommend. Hidden treasures you'd never find …
The town is just a few streets wide. But reviews guaranteed that we wouldn't be disappointed with The Glass Onion. Siri directed us to the heart of town where we found an old house converted to a restaurant. It's the kind of place you might drive by had you not done your research. A sign out front said we'd reached our destination. A dirt patch served as a parking lot off to one side.
As we entered, we found a true delight. The rooms had been left largely intact, allowing only a few tables to sit in each room. It was modernized with wood floors and calming colors. The greeter smiled warmly and led us to our table.
With only a couple of veggie selections available, we settled on portabella sandwiches, warm potato soup, and freshly brewed tea. Yum! Highly recommend if you're ever in the area!
Day trips can give you new perspective.
Then we backtracked to Maryhill Winery to sample their reds and whites. We took in a local band that was playing out on the terrace. And enjoyed the views from the Washington side of the Columbia River.
With several newly purchased bottles tucked safely into our trunk, we moved onto the Maryhill Museum of Art which brought the history of the valley to life. The museum exists in a house built at the turn of the century by land baron Samuel Hill. There's a rich history of art, dance, royalty, and history is woven into the multi-levels of this wonder – it isn't to be missed if you're in the area.
When the doors closed at 5, we crossed back over to the Oregon side of the river and spent two hours driving home with new things to think, talk about, and explore.
The purpose of travel isn't to give you something to do. Instead, it's a way to explore who you are. To discover how you fit into this great big world. To learn more about other lives greatly different from your own. To give you new perspective on everything you do.
And what better way to do that than to take a recommendation from a friend. Even if you've only just met.