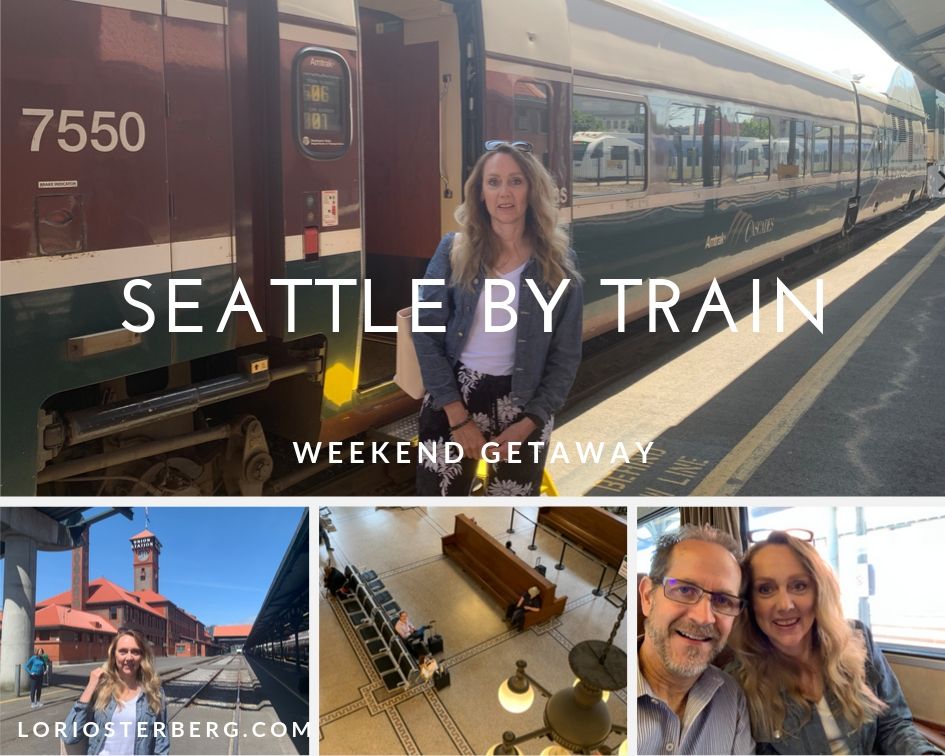 [Part of my Weekend Getaway series.]
Planes – Trains – and Automobiles
Living three hours south of Seattle, we've headed into the city center many times since moving up to the Pacific Northwest. Driving just makes sense in most cases, as Seattle is spread out many miles in all directions, and we usually have a lot on our agenda when we head up north.
Of course, I've flown in several times too. But the train – the train has always been somewhat of a mystery. Until now.
Being from the west, I haven't been on a lot of trains in my lifetime. Europe, yes. That's the only way we made our way between cities while we were there. But it's more difficult to move by train here on the west coast, and it's eluded me until now.
When Andrew booked a ticket to an SEO convention (I know, boring, right?), I jumped at the chance of heading into the city once again. And with the convention located blocks from Pikes Market, right in the heart of city center, we decided to make downtown Seattle our home for a few days.
While we usually book Airbnb, we settled on a hotel this time for convenience. We found a new hotel built in an old landmark building called the Palihotel. It's quirky. It's unique. And I loved it!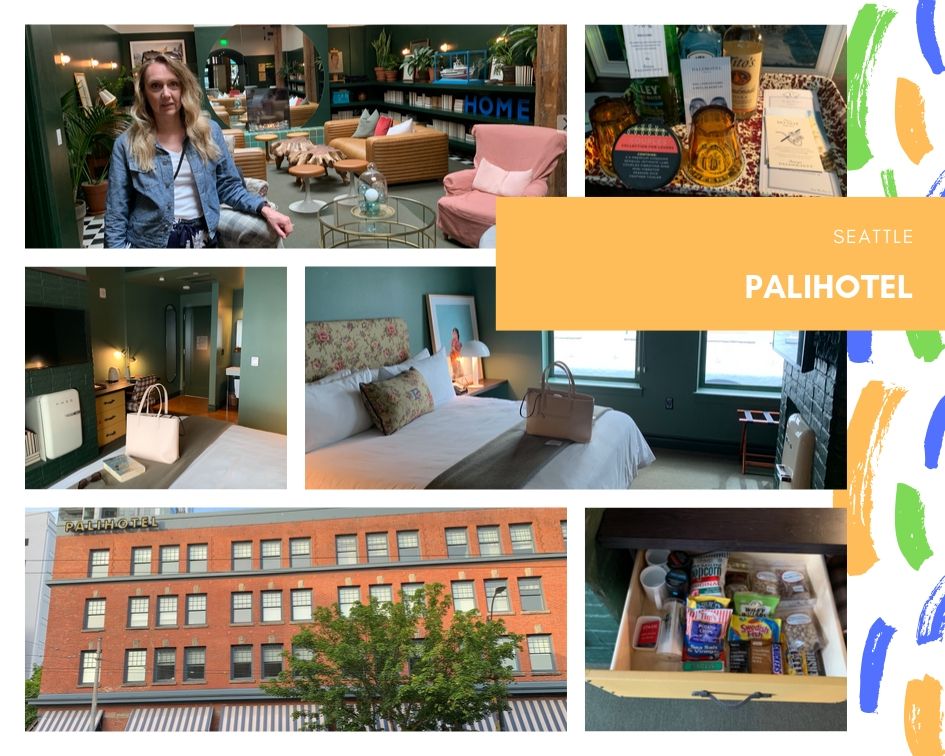 Just two blocks from the waterfront and Pikes Market, I had access to walk wherever I chose.
Seattle is like most cities in America right now. You have to be on your toes all hours of the day due to the homeless problem. Seattle's problem is big, and is well documented. It's a sad sight to see. Without going political, I truly wish we'd spend time and energy helping those less fortunate.
But that doesn't make it an unsafe city to walk. You just have to be aware.
I had days all to myself! I haven't done that in … Honestly, I don't remember. If I travel alone, it's always to a convention. Otherwise, I travel with someone, and we plot our days together.
I quickly found I love the opportunity to set my own schedule. To be able to grab breakfast when I want, to write a little when I want, to explore where I want, to take my time and see what I chose to see.
I've never been to the Museum of Pop before. So that was my first destination. I spent several hours winding my way through the floors, taking in all the exhibits.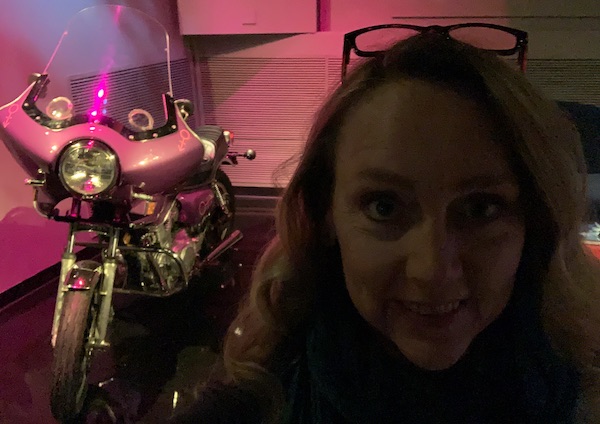 Prince was always one of my personal favorites, and they had an exhibit dedicated to his art. Don't you love my selfie with the motorcycle he used in Purple Rain?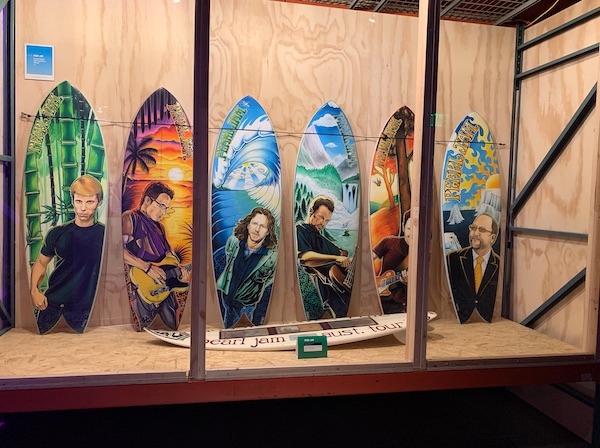 Nirvana and Pearl Jam also had exhibits that shared in detail how each band developed their own unique culture.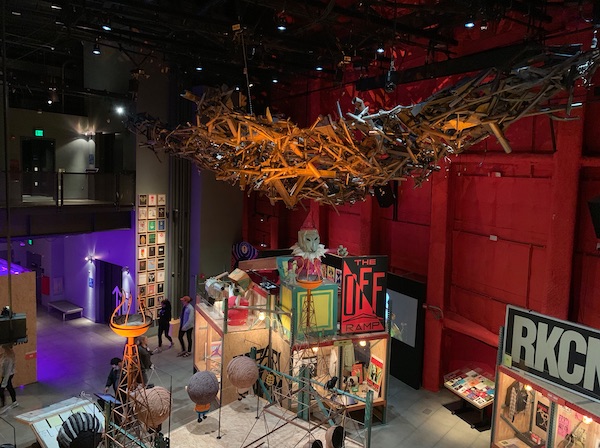 Then I was off to learn more about Fantasy and Horror – two great exhibits for a writer. Many of the exhibits were hands-on, and I had fun exploring all the details of these two genres.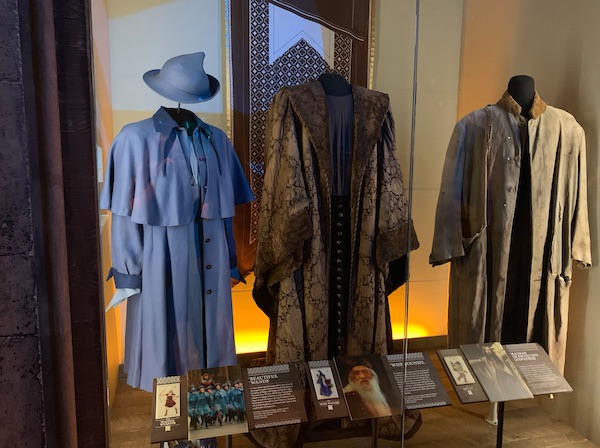 If you're looking for ways to figure out "what's next?" one of the best ways to gain inspiration is to visit your local museum. I photographed so many things for idea generation. Just look at all these ideas! Their ideas sparked my own curiosity, and I know for a fact I'll be using many of these concepts in upcoming books.
I met up with Andrew late in the day, and we explored some fantastic restaurants.
As a plant-based eater, I always Google suggestions before we set out. I tried a Seattle quick casual called Homegrown – the tofu was nice and spicy. We asked at Pikes Market for a Mexican vegetarian option, and found ourselves at El Borracho where their chips and guacamole were yummy, and their street tacos were delish.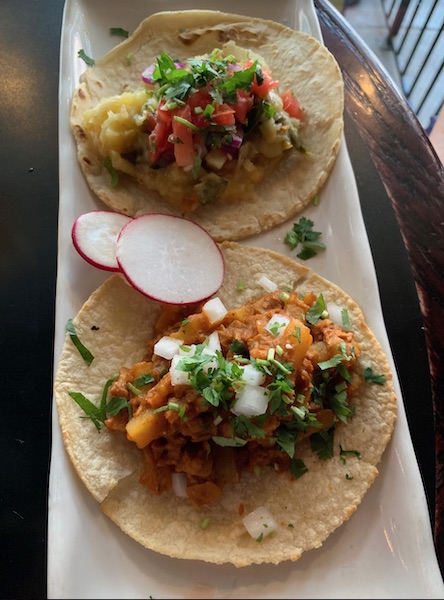 La Vita e Bella was a small, local Italian restaurant we found through a search. The ravioli and spaghetti filled us to the brim.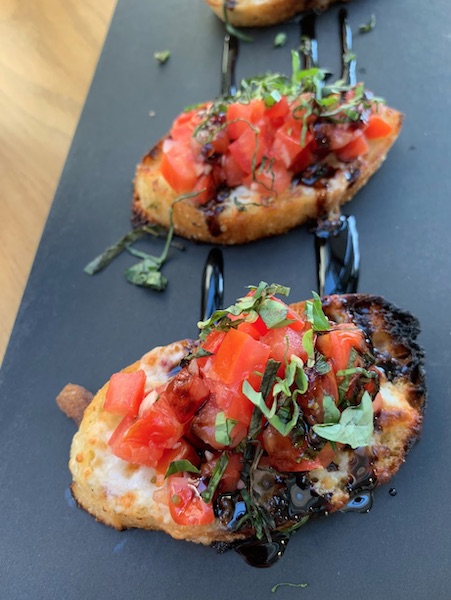 And on our last night, we signed up for a sunset sailing cruise. With just an hour to boarding, we raced down the waterfront looking for a vegetarian option. We found Red Cedar and Sage Restaurant and can't recommend it enough. We had the chance to order from the happy hour menu, and their bruschetta, vodka pasta, and vegetarian pizza were all amazing. We couldn't have been more pleased with the atmosphere.
If you're in Seattle, you can't ignore touring both by land and by sea. And the sunset sailing expedition was perfect! Two and a half hours of heading out into the bay, tucking back near one of the islands, and watching the sun dip into the water. Then the lights sparkled off in the distance as the nightlife popped into action. Yep, there isn't a better way to sit back and relax and take in the view.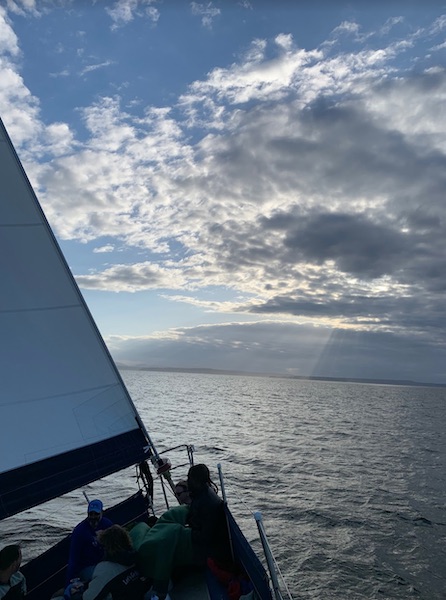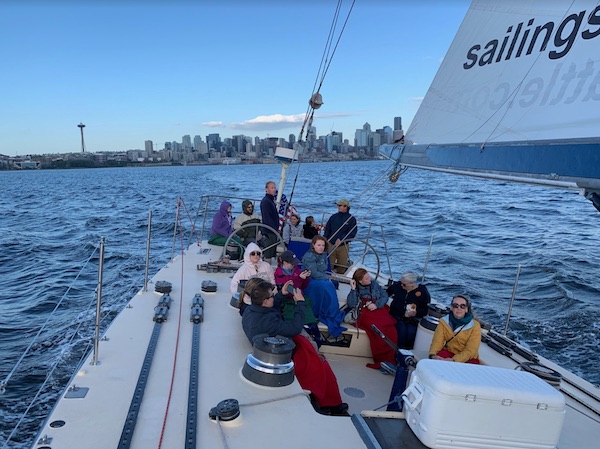 If you're looking for an affordable way to take in the Pacific Northwest, the train was a fun way to travel. I loved being able to settle in and not worry about the traffic. It was nice not having a $40 a day parking fee, or worrying about our car on the city streets.
Plus it gave us three hours of talking, reading, and playing cards. (Okay, a little work too.) But when the water glistened out the window, and bald eagles flew right along side of us, I stopped everything and stared. Relaxed. Became present, and enjoyed.