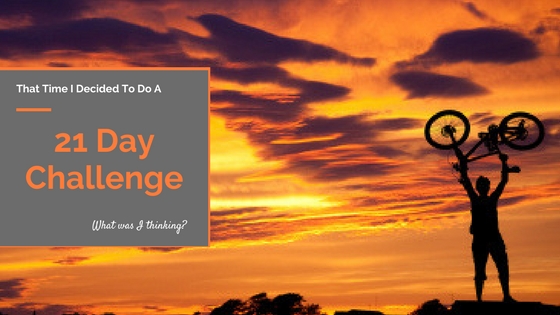 I've always loved pushing myself to my limits and breaking through what I previously thought were "impossible" thresholds.
My health has always been at the top of my mind. That's why I moved to a plant-based diet years ago. It's why I ensure I get plenty of exercise every day.
It's also why I celebrated my 40th by signing up for a triathlon. And why I have hiking the Camino de Santiago on my bucket list.
Okay, so I go a little overboard from time to time …
But this January, when I saw graphics for 21 day challenges come across my Pinterest feed, I quickly thought hmmm …
So I started the first of the year with a 21 day challenge – two of them actually. I've decided I want to tone up my body, make it even better than before. So I started with squats and planks, working my way up to 100 repetitions and seconds respectively.
With both, I started the first day doing 15 squats and holding plank for 15 seconds. The following day I added 5 – 20 squats and 20 second plank. I moved up by 5 each day, while giving myself a day of rest after six days. But the 21st day, I did 100 squats and 100 seconds of planks.
I won't say it was easy – it wasn't. By the third day, I could feel it all over my body. Yes – FEEL it. You know how it is when you exercise in ways you've never done before.
But I kept at it. By the time I started my second set of 6 days, I was feeling pretty good. And each day, as I added 5 more, I'd smile when I was done, knowing I was getting stronger in the process.
When my 21 days were over, I didn't want to give it up.
So I'm working on another 21 day challenge – 21 days of crunches and continuing my 21 day plank challenge.
I'm doing this to get stronger. I'm doing this to feel better from within.
But it's not limited to health and wellness alone. You can use 21 day challenges in all phases of your life.
Journal writing
Giving up alcohol
Giving up sugar
Meditating
Working on a new hobby
Walking or hiking
Running
Biking
Dancing
Writing down new ideas
Cleaning or organizing your home
Learning a new word
Trying a new diet – vegetarian
Reading poetry
Getting rid of one thing from a drawer/closet/room every day
The possibilities are endless. You just have to decide to go for it and put it into action.
I'd love to hear what you're up to. What are your 21 day challenges?