Brand New Cover Reveals for my Destination Series!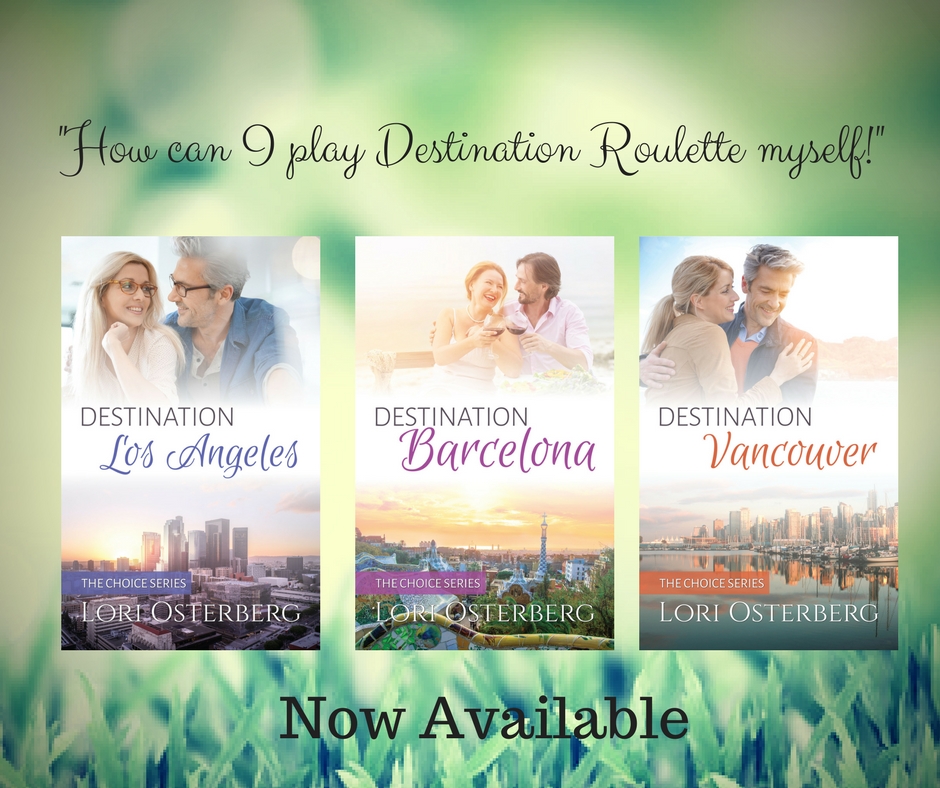 Destination Barcelona
$3.99 ebook / $10.99 print
Author: Lori Osterberg
Series: The Choice
Genre: Contemporary Romance, Women's Fiction
Casey Collins had life planned out. Marriage. Career. Family. Happily ever after. Yet life had other plans.
Marriage? Not after she catches her husband with his assistant. Career? What career. Even her daughter has gone and done the unthinkable … she grew up. As she drops her daughter off at college twelve hundred miles from home, Casey is beginning to wonder what's next in her own life. Until a chance turn of events gives her an opportunity she can't refuse.
Jordi Muriel has built up a successful travel and real estate business in Barcelona. And after trying the marriage thing and failing miserably, chooses to live life on his terms. Now he's ready to expand his business to the International level, and a contract with TravelVentures magazine may be just the ticket. With Casey as his first client, he'll try everything to make this week-long tour the best.
But what happens when sparks fly from the moment the two meet? Will they be able to keep things professional, or will it change both of their lives forever?



Destination Vancouver
$3.99 ebook / $10.99 print
Author: Lori Osterberg
Series: The Choice
Genre: Contemporary Romance, Women's Fiction
Ann Mathison is finally living the dream. After returning to her California roots to co-found TravelVentures Magazine with her two best friends, she's enjoying the fast paced lifestyle of a successful entrepreneur. A new idea has her moving fast … and leads her right into the office of her executive publisher, MJ Williams.
After a night of flirting and asking "what if," they agree to distance themselves from an office romance. But working side by side for months to get the magazine up and running has left them both fighting hard to ignore the growing feelings between them. Now, MJ has fallen in love with her new idea … and realizes he's head over heels in love with Ann as well. Making her an offer she can't refuse, Ann agrees to play her own game and follow him to Vancouver. It might just change everything …


Destination Mexico City
$3.99 ebook / $10.99 print
Author: Lori Osterberg
Series: The Choice
Genre: Contemporary Romance, Women's Fiction
Jena Hughes has the perfect life. A highly successful career. A beautiful home. A handsome husband.
But lately, all she can do is complain. Her job keeps her on the road week after week. She never sees the inside of her house for more than a few hours at a time. And if she could just get her husband, Justin, in the same zip code for longer than a few moments…
Justin Reither is a man on a mission. With goals in mind, he's pushed hard his entire career to make them come true. Will Jena's questions get in his way?
A wrong turn in the airport gives Jena the opportunity to play Destination Roulette. As she leaves her cares behind for a week of reflection and discovery, will she find she's been on the wrong path all along? The results may leave them both asking:
Is this really all there is?
A heartwarming look at chance encounters and saying yes, Lori Osterberg's fresh, witty novel proves that some things are worth reaching for…


Destination Los Angeles
Read It For Free
Author: Lori Osterberg
Series: The Choice Novella
Genre: Contemporary Romance, Women's Fiction
Marketing whiz Ann Mathison is tired of her monotonous life. With a job she could do in her sleep, and a life that is anything but exciting, she takes a trip to paradise with her two best friends to relax and recharge.
But what happens when a big idea sparks her interest and has her dreaming of starting her own business? Will Liz Cohen and Kate Hendricks agree to join her?
Looking for new careers, new lives, success … and maybe even a little romance … brings the three friends back together in one city, working on a project that just may change their lives forever.
Watch out midlife, here we come!