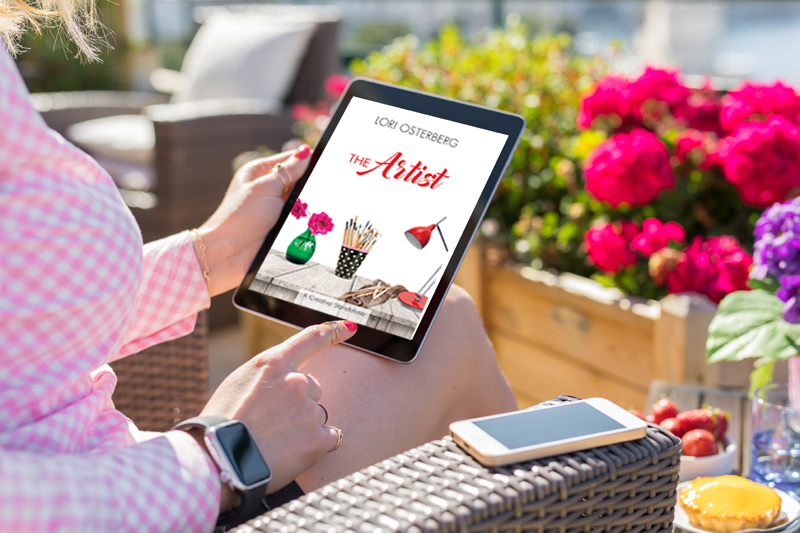 I'm starting the year with a bang!
I'm super excited to be releasing The Artist, my newest romance novel within The Creative Standalone series.
Like The Writer, The Artist is about women in the heart of change, reinventing their lives into something brilliant. Of course, they're building businesses. Of course, their enjoying empty nests all on their own.
And of course, when they are introduced to new men who allow them to be the best they can be, they say YES!
You're going to love The Artist as much as I do. Don't worry if you haven't read The Writer – that's why I call them standalones. I've written them with a few similar themes – they are building creative businesses – but each novel can be read and enjoyed by themselves.
And because this is my first book of the new year, I wanted to give you an extra special deal. For a limited time, you can pick up The Artist for just 99 cents. I won't hold it at that price for long, so pick up your copy today.
Then let me know what you think. I would love to hear your thoughts and how much you love my new set of characters. I've even written an extra special message in The Artist for you, my fans.
The Artist
$3.99 ebook / $11.99 print
Author: Lori Osterberg
Series: A Creative Standalone, Book 2
Genre: Contemporary Romance, Women's Fiction
Life can change in an instant …
Losing both her mom and dad, divorcing her husband, and facing an empty nest all alone weren't on Renee Moore's list of to-do's. But who said life goes according to plan? Nothing a little reinvention can't handle.
Give up a boring career and pursue her art? Check.
Sell off the family home and find a loft in the city? Check.
Find love again? Well …
Bradley Lane is trying to pick up the pieces of his messy life, looking for a little reinvention of his own. When an accident claims the life of both his mother and father, he learns what matters rarely comes in neat and tidy packages. Sometimes you have to be willing to reach for what you want most.
As Renee heads back to her roots to attend the funeral, she discovers the boy she once knew is now someone who could turn her world upside down. But should she let him in, just when her life is back on track, and her artwork has been discovered?
Is there room in her life for a career, a new home … and love too?