This Is
A Moment In Time
Just a special look in on characters you've grown to love…
As a writer, I often think about my characters and wonder what they'd be doing long after the final page of my books. So I created A Moment In Time to peek in on each of my favorite characters' lives. I hope you enjoy …
—-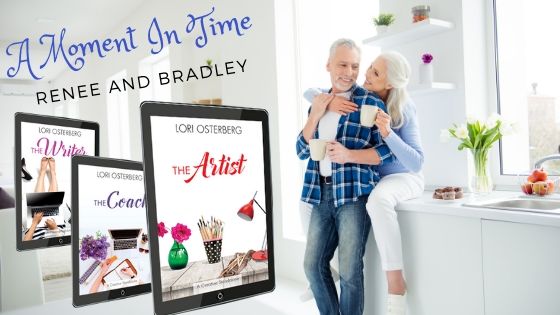 Renee Moore hit send. She clicked print, and with the newly printed paper in her hand, opened her studio door and raced down the hall.
She followed her nose to the kitchen. She stopped short and smiled as she saw Bradley Lane dancing from the oven to the sink and back again.
A navy t-shirt stretched across his back. Khaki shorts fit snugly on his hips. Earbuds popped into his ears. And his newest purchase, a deep red apron, tied around his waist.
He told her he'd never cooked much before. Never had the desire.
But he'd found the joy in it when he'd stayed with his mom and dad, cooking for the three of them while his parents focused on her cancer treatments.
Before the auto accident that had claimed his parents' lives.
He'd finally had the time to take over chef duties, and found he enjoyed whipping up tasty treats.
Now that he was living in California with Renee, contemplating what was next in his life, he'd found his way into the kitchen once again.
He loved trying out new recipes.
Renee could attest he was good at his new hobby. She'd be investing in new jeans if he didn't stop.
But right now, she bit back a fit of giggles.
His hips swayed back and forth. His voice just a little out of tune.
His hair mussed in the best way possible.
His happiness was obvious.
She crossed the room and leaned into the counter, continuing to watch.
I will find you
I will hold you
I'll be there
He jumped as he turned and saw her standing there. He pulled the earbuds out of his ears and crossed the room in two strides. "Hi." He looked down into her eyes.
"Hi."
"I didn't hear you come in."
"Obviously," she smirked.
He glanced behind him at the dishes piled everywhere.
He turned back, grinning, "I'm making dinner. The bread's done. And I made gazpacho."
"How much did you make?" Cause looking at the mess, she anticipated it must be enough to feed a small army.
He didn't answer. Instead, he pulled her close, a hungry look growing in his eyes.
"Hey, wait, isn't that tomato?" She pushed her hands between her and his apron, trying to keep him from hugging her.
"Maybe." He only pulled her tighter.
One kiss and she forgot all about the stain.
He nibbled at her ear, her neck. He smelled like garlic and just a hint of basil.
If she wasn't before, she was suddenly a gazpacho fan. She couldn't wait to taste it.
But maybe it could wait until later.
Maybe after a little dessert before dinner.
His kisses drove her crazy. He was so damn good at finding her secret spots, the places that drove her wild.
And though she doubted there was any inch of her he hadn't explored, his investigative skills always amazed her. He was a scout with a mission.
Of course, she was surprised at her own awakening. She'd been nibbling a lot too in the weeks since he'd permanently moved in. Had it really only been a few months since that fateful night in Nebraska, where they'd started out as lifelong friends?
She linked her hands around his neck as he grabbed her ass. He boosted her up and placed her on the counter in front of him. Only then did she remember the reason she'd come into the kitchen in the first place.
She held up the piece of paper in front of him.
"What's this?" His eyes moved down to the paper.
"They accepted me. I'm in the art show!" she squealed, kicking her feet gently back and forth.
His eyes moved back up to hers. "Really?"
She'd submitted her portfolio to six art festivals taking place up and down the west coast. Number two had just accepted her. She'd be traveling to Seattle in late August for a three day event. Two weeks after art festival number one the week before in Napa.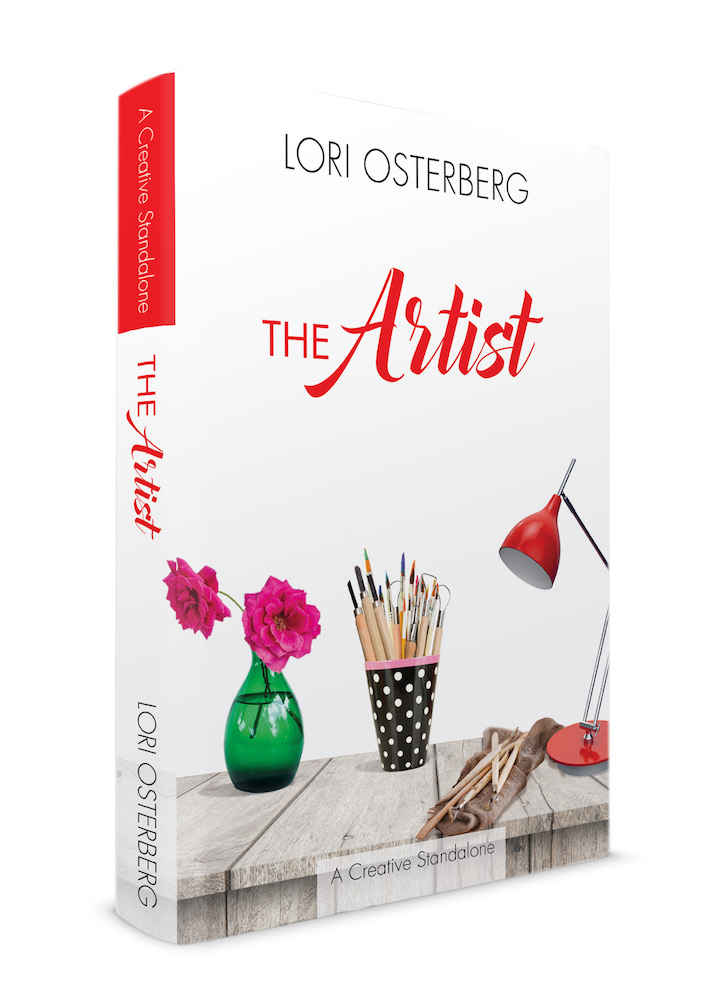 "They loved my work."
"Of course, they did."
"They said there was nothing else like it in the show."
"You're unique. Your work's gorgeous."
"You're biased."
He stepped closer. "I am." His hands touched the side of her face. His face came nearer.
God, she loved his eyes. The way they melted right into her.
"They'll let me know the layout of the festival soon, but I'm going to have to start planning my booth. It's a bigger space than the one in Napa."
"I'll help in any way I can." His kissed her forehead. Then continued down to her nose, her lips, her neck.
"Have you ever been to Seattle?" She struggled to get the words out. What his lips were doing to her …
"Uh, uh."
"You'll love it."
"Okay."
"Maybe we should stay an extra couple of days."
"That works."
"I could show you Pike's Market. We could ferry over to the islands."
"Sounds like a plan."
"Are you listening to me?"
"Yep."
He fisted the hem of her t-shirt and pulled it over her head.
"I always listen."
He kissed his way down her neck, pulling her bra strap aside as he continued his journey down.
"Seattle. Water. Me. You. Let's get naked."
How could she argue with that?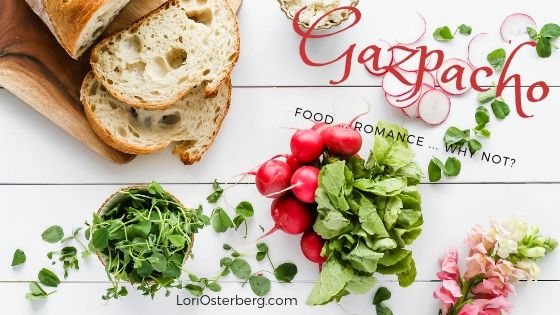 Bradley's Gazpacho Recipe
Ingredients:
9 medium to large ripe tomatoes, about 3 ½ pounds
3 garlic cloves
1 medium jalapeno, to taste
3 T olive oil
3T red wine vinegar
Sea salt
1 small onion
¼ cup cilantro leaves
½ cup basil leaves
Directions:
Using a high powered upright blender, work in three batches. Place tomatoes, garlic, jalapeno, olive oil, red wine vinegar, and 1/3 of each onion, cilantro, and basil into the blender. Blend for 1 to 2 minutes until smooth.
Pour into a large bowl. Repeat until all ingredients are blended. Stir.
Place in the refrigerator until cool. It's best made a few hours to a day in advance, but you can store it for up to two days. Season to taste. Garnish with cherry or heirloom tomatoes, cilantro, olive oil, and basil.
—-
This Is
A Moment In Time
Just a special look in on characters you've grown to love…