Here we are at Day 7 – today's winner is Vanessa R from Clarksville OH
My giveaway is all about sending out autographed copies of my books – plus a few little goodies too.
But as a reader, I know you're also looking for other books you can enjoy, especially in the coming weeks where you'll hopefully have a little extra time to sit down with a cup of tea and read for a bit. (That's always on my schedule – even more so when I take a little time off from the business at the end of the year.)
I read … A LOT! I have several books going at any given time.
I'm not genre-specific. I currently have several nonfiction and several novels on my nightstand. If it looks interesting, I'll pick it up. But I also read enough that if it doesn't interest me, I stop reading it and move onto something else.
I was looking back over my reading list for this year and several books stuck out as my favorites. These are all books I couldn't put down. Once I picked them up, I had them read in just a few days. If you're looking for something to read, give one of these a try.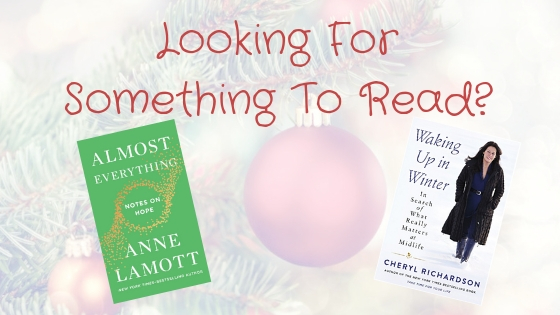 I love books that are short in length, easy to digest, yet carry meaning you'll think about for weeks, months, even years at a time. If you haven't read any of Anne Lamott's books, you're missing an opportunity to think about things that impact our lives every day in an entirely new way. And Almost Everything is her latest, relevant for today's world, providing hope for the world as we move into the New Year.
I've read several books by Cheryl over the years, but this one touched me deeper than her others. Maybe it's her honest look at what midlife means for her. I have a copy of her book currently on my desk, where it's sat for the past several months. It's dogeared and has sticky notes affixed throughout the pages where I've made notes of my own as her words trigger ideas.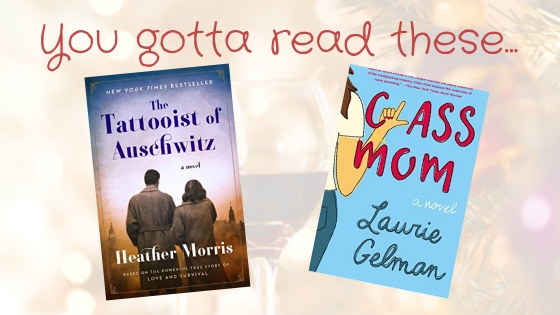 I'm a sucker for a good love story. You too? Then you're going to love this novel based on the real life experiences of a Holocaust survivor. To think that love could survive in a place like this, it gives hope that we can move forward no matter where we are, right now.
This novel is laugh-out-loud funny. The main character already has two grown daughters, and is now navigating back into the classroom the second time around with her son from a second marriage. She adds a little humor to her room parent emails – what could possibly go wrong?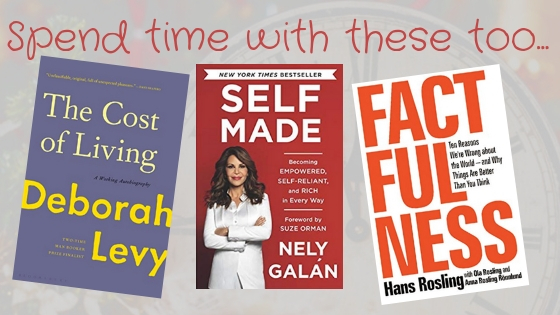 This a memoir that follows Deborah's life as she navigates love, marriage, divorce, mourning, and discovering her place in this world. She writes with humor and honesty that makes you sit down and take a look at your own life, discovering bits and pieces of who you are too along the way.
One of my favorites for the year, I've gone back to the concepts over and over again since I first read it. If you've ever pondered over why the world is in such bad shape, pick up this book and you'll never look at it the same way again. Hans' research proves time and time again we're in the best shape in history. This is a perfect read if you want to start out the New Year with nothing but positive motion.
While this is a couple of years old, I loved the simple step-by-step structure Nely used to weave through this book. If you're thinking of starting up your own side hustle in the New Year, be sure to read this book first.