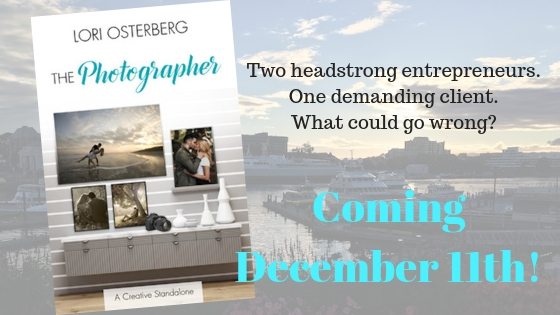 Are you ready for the holidays?
This year, my plans are – simple, simple, simple! My daughter is 7,300 miles from home, and outside of sending her a box full of goodies, we won't be sitting around the tree together this year. Our trees will be half a world apart, and we'll be celebrating via Facetime throughout this holiday season. I'm counting the days until I travel to her and see her in person – I'll share all the details next year and give you some tips in a travel post. 😉
Without my daughter here, I've had plenty of time to write. And you're going to LOVE my latest – The Photographer.
As many of you know, I spent close to two decades operating a professional photography studio with my husband. When I started the Creative Standalone series, The Photographer was one of the first novels I started mapping out. Yet the story took awhile to build. I wanted her to be a strong business woman. I wanted her to approach photography in a similar manner as our own. I wanted her to be passionate about her photography. And while her personality came quickly, her love interest's didn't. He took time to build in my mind. I knew he had to be strong-willed to match her. And I knew they had to have a few head-butting sessions before they came together and discovered love conquers all.
I love The Photographer. And I know you will too. It's coming soon – just in time for all of your holiday travel plans.
The Photographer
$3.99 ebook / $11.99 print
Coming December 11th!
Author: Lori Osterberg
Series: A Creative Standalone, Book 4
Genre: Contemporary Romance, Women's Fiction
A cancer scare made Lauren Novak question everything. She quit her lucrative high-tech job in pursuit of following her passion. Now two years later, she's riding the waves of success as a portrait photographer to the rich and famous.
Joel Bennett gave up on love years ago. Instead, he's put his time and energy into the only thing that's ever mattered to him: cooking. As the owner of Tristan's, one of the most sought after restaurants in North America, his chef skills have given him a celebratory status. And a restaurant with bookings over six months in advance.
When Lauren signs on a new client in search of the perfect engagement portrait where only a backdrop of Tristan's will do, sparks fly as two highly successful people fight over what it takes to give their clients their all. The only question that remains: how explosive will it be?
Will their drive keep them apart? Or will it pave the way to something more?